Restaurant Weinstube Muz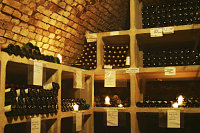 Wine connoisseurs appreciate our wine list and our extensive open bar. For "Viertelesschlotzer" we are offering a 250 ml carafe from Euro 3.50 to 4.50 as well as bottles of wine from numerous vineyards in the region - and of course wine from our own vineyard, matured by the winery Haidle in Kernen-Stetten.
All in all we have app. 100 different wines on offer. We also keep a special store of three noble wines that are served in 0.1 litre portions for you to try out. A great variety of Barrique wines complements our offer.
Below you will find a list of vineyards whose wines we are selling:
Weingut Albrecht Schwegler, Korb
Furthermore our wine list also offers wines from France, Italy, Spain, South Africa and Australia.
We would be happy to introduce you to the wines of the Rems Valley in the course of one of our wine-tasting tours we conduct for groups of 10 persons and more. For further information, go to the wine-tasting page.
If you have any questions or would like to get more information, please call us at (0 71 51) 6 13 21 or send an e-mail to info@weinstube-muz.de.